It Gets Messy in Canada
"All of that negative news has kind of put a downer on consumer sentiment," is how Jharonne Martis, director of consumer research at Thomson Reuters, explained the crummy consumer confidence reading on Friday.
The Thomson Reuters/Ipsos Canada Primary Consumer Sentiment Index had dropped to 51.6, the lowest so far this year and well below the 56.4 of last August before the oil-price crash soured the mood. By comparison, since 2010, the index has mostly been in the mid-50 range.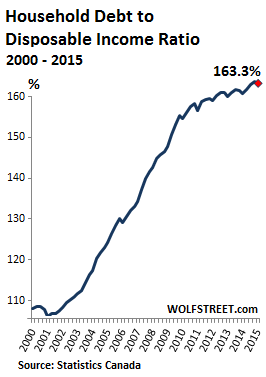 The "negative news" has extended beyond the price of oil. She pointed at some well-known retailer chains that have shut their stores in Canada recently, including Target, Future Shop, and photography retailer Black's.
Already on March 30, Bank of Canada governor Stephen Poloz had warned that economic growth would be "atrocious" in the first quarter "because the oil shock is a big deal for us." And he was right, with GDP dropping 0.6% annualized, the first quarterly decline since 2011.