Asian Stocks Set Back Too - Expect Spill Over
No Doha deal as Saudi insists all OPEC members must join

Russia says it was surprised by some nations changing position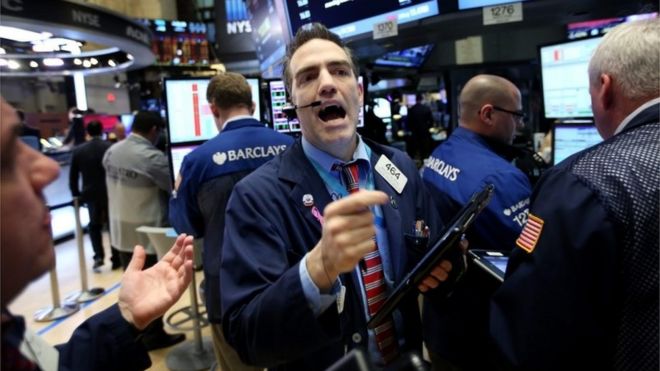 Oil Plunges After Output Talks Fail Amid Saudi Demands Over Iran
Oil tumbled by the most in two months after output talks Sunday between the world's biggest producers ended without any agreement on limiting supplies, a diplomatic failure that threatens to renew the rout in prices.
Futures fell as much as 6.8 percent in New York, the biggest intraday drop since Feb. 1. The summit in the Qatari capital, which dragged on for more than 10 hours beyond its initially scheduled conclusion, finished with no final accord. There were significant hurdles to any deal after Saudi Arabia's Deputy Crown Prince Mohammed bin Salman said the kingdom wouldn't restrain its production without commitments from other major producers including Iran,
which has ruled out freezing for now.
"Nothing has changed in market fundamentals, but any hopes of a coordinated OPEC supply response are now at zero," David Hufton, chief executive officer of brokers PVM Group in London, said by e-mail. "All of the supply cutbacks necessary to rebalance will have to come entirely from non-OPEC. Once again, the Saudis have delivered a hammer blow to fellow producers, and this promises to be the final nail in the coffin for shale producers hanging on for a price reprieve."
West Texas Intermediate for May delivery lost
Are We On The Right Track To An Oil Price Recovery?
Oil prices have increased 60 percent since late January. Is this an oil-price recovery? Two previous price rallies ended badly because they had little basis in market-balance fundamentals. The current rally will probably fail for the same reason. The Oil Glut Worsens But Prices Reach 2016 Highs Although oil prices reached the highest levels so far in 2016 during the past few days, the global over-supply of oil worsened in March. EIA data released this week shows that the net surplus (supply minus consumption) increased to 1.45 million barrels per day (Figure 1). Compared to February, the surplus increased 270,000 barrels per day. That's a bad sign for the durable price recovery that some believe is already underway. (Click to enlarge) Figure 1. EIA world liquids market balance (supply minus consumption). Source: EIA STEO April 2016 Labyrinth Consulting Services, Inc. The production freeze that OPEC plus Russia will discuss […]
Saudi Prince Reiterates Oil Freeze Depends on Others Joining
Saudi Arabia won't restrain its oil production unless other producers, including Iran, agree to freeze output at a meeting this weekend in Doha, the kingdom's deputy crown prince said. The world's biggest crude exporter would cap its market share at about 10.3 million to 10.4 million barrels a day, if producers agree to the freeze, Prince Mohammed bin Salman said during an interview on Thursday at King Salman's private farm in Diriyah, the original home of the Al Saud royal family. "If all major producers don't freeze production, we will not freeze production," said Prince Mohammed, 30, who has emerged as Saudi Arabia's leading economic force. "If we don't freeze, then we will sell at any opportunity we get." At least 15 nations including Saudi Arabia and Russia, the world's two largest crude oil producers, will gather in Doha on April 17 to discuss freezing output to stabilize an […]
Iran insists it will not be party to any freeze, as Zanganeh to skip Doha meeting
Iranian oil minister Bijan Zanganeh will not attend Sunday's high profile gathering of OPEC and major non-OPEC producers in Doha, given that Iran has no intention of participating in any production freeze agreement, the country's oil ministry said Friday. "Considering Iran's plan to revive its share of the global crude oil market after full annulment of unfair sanctions and the fact that this issue has been discussed in bilateral and multilateral meetings with oil and energy ministers of OPEC and non-OPEC producers… the Iranian oil minister will not take part in this meeting," said Akbar Nematollahi, director general for the oil ministry's public relations bureau, according to oil ministry news service Shana. However, he said Iran "supports any effort by OPEC and non-OPEC countries to bring back stability to the oil market and global oil prices." Iran's delegation to Doha will instead be headed by its OPEC governor Hosein […]


The Last Bull-Market Pillar Collapses
When I search for new stocks for investment yield, there's one data point I always take a look at: the company's ability to return capital to shareholders.
It's one of the most important pieces of information to consider when looking for stable, dividend-paying stocks. Essentially, I want to see if the company has the wherewithal to pass cash flow back to shareholders, thereby increasing our wealth in the process.
There are several ways companies can accomplish this, with paying a dividend being the most direct method.
One common method of returning shareholder value — share buybacks — may be stalling out. While this may seem somewhat innocuous, the decline in stock buybacks may be a sign that we could be entering the next stock market recession any day now.
Share buybacks are attractive for investors for a few reasons.