Tesla Model 3 Electric Car Orders Accelerate to 276,000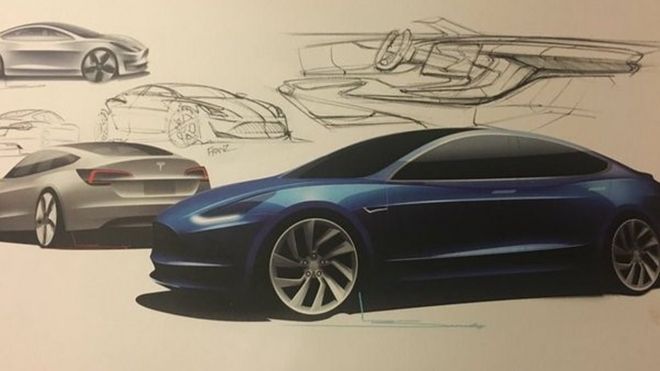 Tesla founder and chief executive Elon Musk says pre-orders of the firm's much-anticipated Model 3 electric car currently total 276,000.
The California-based firm unveiled the five-seater car - its lowest-cost vehicle to date - on Thursday.
Mr Musk tweeted the total reflected the orders received by the end of Saturday.
Pre-orders of the Model 3 will not necessarily all translate into actual sales when the car is released, with first deliveries in late 2017.
It can be ordered in advance in dozens of countries, including the UK, Republic of Ireland, Brazil, India, China and New Zealand.
Potential car owners need to put down $1,000 deposits to reserve their vehicles.
Such has been the interest that Mr Musk tweeted the company was "definitely going to need to rethink production planning".
This morning we got another confirmation of how supranational organizations "plan" European crises in advance to further their goals, when Wikileaks published the transcript of a teleconference that took place on March 19, 2016 between the top two IMF officials in charge of managing the Greek debt crisis - Poul Thomsen, the head of the IMF's European Department, and Delia Velkouleskou, the IMF Mission Chief for Greece.
It may not be hard time, but it's a far cry from the giddy days when the Kaupthing bankers hosted parties for clients aboard yachts in Monte Carlo and hired the likes of pop legend Tom Jones to serenade guests at London galas. In sentencing these financiers to serve terms of up to 5½ years, the Icelandic courts have done something authorities in the world's two great banking capitals, New York and London, haven't: They've made bankers answer for the crimes of the crash. "The Icelandic banks went overboard," says Olafur Hauksson, the onetime small-town police chief who in January 2009 was appointed special prosecutor to investigate the banking cases. "They were basically bankrupt."
Since '00, the population of 55+ Americans has grown by 27 million (+45%) and full time employment among this segment risen by 10 million (+93%). A large swath of boomers did not and have not retired maintaining existing or establishing new full time work. Theoretically, they are willing to work for less to maintain medical benefits and bridge shortcomings in their retirement savings.
The Truth Behind U.S. Jobs Data
This morning, the March nonfarm payrolls report topped expectations as the economy added 215,000 jobs, versus economists' target of 205,000.
The report will be hailed as another win for the U.S. economy, as job growth above 200,000 is considered solid. Beating Wall Street's expectations was just icing on the cake. And so, analysts and investors alike will take this report and run with it as they have so many others.
But a different report released earlier this week offers a foreboding look at why job growth will likely soon fade, and why you can expect low interest rates for quite some time.