No Business Strategy Budget Doomed to FAIL
Trudeau to Squander Canada's Fiscal Success
"I think he should strike while the iron's hot and go big on the spending side," Gluskin Sheff & Associates Inc. Chief Economist David Rosenberg said by e-mail Monday. On growth, Rosenberg -- who has called for

C$50 billion in stimulus

-- said he hopes the Liberals are "committed to growing the pie, not just changing the size of the slices."
Bloomberg

Prime Minister Justin Trudeau will put the Canadian government back in business when he introduces a debut budget Tuesday that reverses a decade of restraint.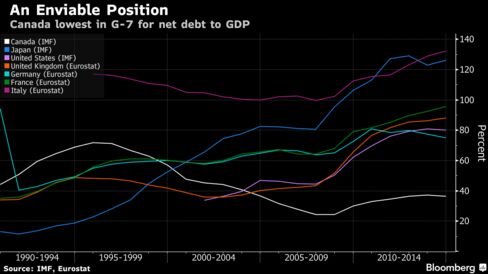 Trudeau, whose popularity has swelled since his majority victory in October's election, will push the country deeper into deficit as it grapples with sluggish economic growth. The shortfall will finance new benefits for families and what the Liberal prime minister bills as "unsexy" infrastructure spending, among other programs.
The deficit is expected to be in the range of C$30 billion ($22.9 billion), up from C$2.3 billion in the fiscal year that ends March 31. That amount of red ink will test three decades of fiscal restraint in Canada and underscore the contrast between Trudeau and his predecessors. Stephen Harper, the Conservative who governed from 2006 to 2015, aggressively pursued a balanced budget in recent years while cutting taxes and shrinking the role of government.
READ MORE
The 300 largest global oil and gas companies have also seen $2.3tn sliced from their stock market value over the same period, a 39 per cent slide since oil began its decline, an analysis by the Financial Times has found.
China is studying a Tobin tax as a new policy tool to curb capital outflows, an official at the country's foreign exchange regulator said on Tuesday.
Brazil to rescue states, cities as debt
Finance Minister Nelson Barbosa said at a news conference in Brasilia the plan could cost taxpayers about 37 billion reais ($10.2 billion) within three years, because it would stretch out debt maturities for some liabilities by as much as 20 years and concede grace period on some of them.
High-Flying Nike Gets Grounded

Not even the high-flying Nike can be perfect every time.
Nike

(NKE) threw up a bit of an air ball late Tuesday by saying sales jumped "only" 8% last quarter. That failed to meet Wall Street's lofty expectations and sent Nike stock dropping almost 5% on Wednesday.
The "miss" was a sign of rising competition from Steph Curry and the

Under Armour

(UA) brand as well as the impact of the stronger U.S. dollar. Nike had been on quite the hot streak until this week, with its stock besting not only Under Armour but virtually every Dow stock.
Nike, which recently reached a lifetime sponsorship deal with NBA superstar LeBron James, warned investors it won't always be operating on all cylinders. "Not every dimension of our portfolio will have the same level of momentum in each and every period," Andrew Campion, Nike's chief financial officer, told analysts during a conference call.
READ MORE